Hello from the Studio Chez Charles!
---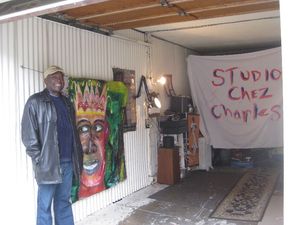 Welcome to my art page! Painting and drawing have always been an integral part of my life.
Long before there was music, I was drawing and painting.
 Please take a look through the art work below.
I've divided the work into three categories for now.
The first category is Floralscapes, dealing with flowers and landscapes.
The second is Abstracts and the third is Masks. All art work is sold as prints in sizes
of 5x7 and 8x10 and in groups of 5, 10, 15 or 20.
Original paintings are also available.
In addition, we do custom work, murals and faux textures for walls.
Call for pricing!
Thank you and enjoy!
Abstract, abstractions art and more:  I was exposed to art by Nana McPherson, my second grade teacher, who jump started my love for color and design, when she gave me my first art instruction book.  Today, many art shows and galleries later, I find myself going back to some of my first art exposures in grade school in Riverside, California.  Many Thanks!
The African, The Indian, The Indonesian, Aboriginal.  So many masks from all over the planet.
The cultures of the world tell so many stories through their use of masks.